Wicked Me
---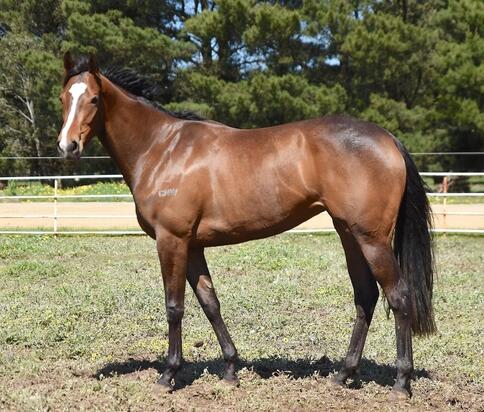 Sire: Magnus
Dam: Wickedly
Colour: Bay
Gender: Filly
Age: 4 year old
Foaled: Sep 20th, 2017
Country: Australia
---
Owners
M Matthews, Mrs I E Matthews, Mrs J A Scott & J O McCabe
---
Career Record: 8-1-0-0
Prizemoney

$16,050.00

Wins

12.5 %

Place

0.0 %
---
Pedigree
WICKED ME (AUS)

Bay or Brown Filly
Foaled in 2017

---

| | | | |
| --- | --- | --- | --- |
| Sire | Flying Spur | Danehill | Danzig |
| MAGNUS (AUS) | | Rolls | Mr. Prospector |
| 2002 | Scandinavia | Snippets | Lunchtime |
| | | Song of Norway | Vain |
| Dam | Golden Snake | Danzig | Northern Dancer |
| WICKEDLY (AUS) | | Dubian | High Line |
| 2004 | Perfumery | Zabeel | Sir Tristram |
| | | Geraniums Red | Brigadier Gerard |

---

MAGNUS (AUS) (Bay 2002-Stud 2008). 4 wins to 1200m, AJC Galaxy H., Gr.1. Sire of 590 rnrs, 403 wnrs, 22 SW, inc. Streets of Avalon (MRC Futurity S., Gr.1), Malaguerra, Magnifisio, Great Shot, Kemalpasa, Enbihaar, Platinum Kingdom, Princess of Queens, Magnapal, Rio del Mar, Halvorsen, Prince of Brooklyn, Miss Promiscuity, The Alfonso, Volcanic Ash - Volcanic General (Mal.), Malibu Style, The River, Front Page, Constant Justice, Alpha Beat, etc.

1st dam

WICKEDLY, by Golden Snake. 4 wins from 1200m to 2000m, 3d MRC Avon H. Dam of five named foals, four to race, inc:-

Van Winkel (g. by Magnus). 6 wins to 1500m, A$99,125, to 2020-21 in Aust.

2nd dam

PERFUMERY, by Zabeel. Raced twice. Half-sister to AFFINITY, Red Chase, Rose World (dam of O'REILLY ROSE). Dam of 8 foals, 7 to race, 5 winners, inc:-

Suspense. 7 wins from 1200m to 3150m, A$83,950, MVRC James Hird H., 2d MRC Kiwi Can H., 3d MVRC Vote for Scobie H.

Wickedly. 4 wins. See above.

Diamond Glitter. 5 wins from 1500m to 1800m in NZ and Macau.

Wantonly. 2 wins at 1600m, 2000m in Aust. Dam of-

Tivoli Lass. Winner at 1400m in Aust.

Marvelite. Winner at 2300m in Aust.

Miss Roobinstine. Placed in Aust.

L'Homme. Placed at 3 in Aust.

3rd dam

GERANIUMS RED, by Brigadier Gerard. Unraced. Half-sister to Calf of Man. Dam of 9 foals, 8 to race, 6 winners, inc:-

AFFINITY (Zamazaan). 5 wins from 1500m to 2500m, A$283,000, VATC Caulfield Cup, Gr.1, VRC Roman Leathergoods H., VATC Herald Cup, Normanby H., 2d SAJC Adelaide Cup, Gr.1, VATC Herbert Power H., Gr.2, TS Carlyon Cup, Gr.2, HR Way Welter H., Gippsland H., 3d VATC Riverside Welter H.

Red Chase (Zamazaan). 2 wins at 1900m, 2450m, VATC Neerim H., STC Waterfall H., 2d VATC So Called H., 3d South Australian Derby, Gr.1, STC AWA H.

Tai Rouge. 5 wins at 1200m, 1600m, VATC Millers Guide H., 2d STC Tooheys Draught H., 3d AJC Imperial Peking Restaurant H.

Close Affinity. Winner at 1600m in Aust.

Delphiniums Blue. Winner at 2100m, 2d CJC Trial H., Martineau Brandy H. Dam of-

Violets are Too. Winner at 1200m in NZ. Dam of-

Bounty Rose. 4 wins at 1200m, CJC Fitzgerald Arms Tavern H., 2d CJC Racecourse Hotel Motor Lodge H., 3d CJC Win One Million Dollars on Cup Day H., Christchurch Casino H. Producer.

Red Gerard. Winner at 1600m in Aust.

Rose World. Unraced. Dam of-

O'REILLY ROSE (O'Reilly). 9 wins-1 at 2-from 1100m to 2000m, NZ$292,175, Otago RC White Robe Lodge H., Gr.3, Dunedin Guineas, L, Matamata RC Stanley Group S., L, Southland Guineas, L, Otago RC Dunedin City Ford Trophy, CJC Speight's H., Oxford Consulting H., Christchurch Casino Summertime Dining H., Lancaster 2YO H., 2d WRC Trentham S., Gr.3, Kurow Cup, 3d ARC New Zealand S., Gr.1, Avondale Cup, Gr.2, Canterbury Gold Cup, Gr.3-twice, 4th Waikato RC International S., Gr.1, Otaki Maori RC WFA S., Gr.1, Timaru Cup, L. Dam of-

Collaborate. 3 wins from 1400m to 2200m, Hawkes Bay Christmas at the Races H., 3d WATC Amelia Park H., Pinjarra RC Belle Park Training & Agisment H.

Ayers Rock. 2 wins at 2000m, 2d CJC McCrory Thomas Travel H., 3d CJC Racecourse Hotel Motor Lodge H., Otago RC Daily Times H.

Volkrose. Unplaced. Dam of-

SHAMEXPRESS (O'Reilly). 3 wins-1 at 2-at 1000m, 1200m, A$1,150,475, VRC Newmarket H., Gr.1, Summer Heroes Raceday 2YO P., MVRC Chandler Macleod Premium H., 2d VRC Sprint Classic, Gr.1, Lightning S., Gr.1, MRC Schweppes H., 3d VRC Coolmore Stud S., Gr.1, MRC HDF McNeil S., Gr.3, 4th VRC Newmarket H., Gr.1, ATC All Aged S., Gr.1. Sire.

Vendome. 2 wins at 1000m, 1100m to 2020-21, 3d ATC Everest Carnival H.

Guelder. Raced once. Dam of-

Management Supreme. Winner at 1200m in 2020-21, HKJC Saturn H., 2d HKJC North Point H., 3d HKJC Middle Bay H.

4th dam

CELINA, by Crepello. 2 wins at 1¼m, 1½m, Irish Oaks, Gr.1, Newmarket Pretty Polly S., L, 2d Newbury Fred Darling S., Gr.3, 3d Royal Ascot Ribblesdale S., Gr.2, Ascot Princess Margaret S., L. Half-sister to MELODINA (dam of DUBIAN, MILVERTON, SEE YOU THEN), St. Padina (dam of DOUBLE LOCK, TURN THE KEY). Dam of 13 foals, 7 to race, 6 winners, inc:-

Calf of Man (Derring-Do). Winner at 10¼f, 3d Lingfield Oaks Trial S., Gr.3. Dam of-

Kitterland. 2 wins at 11f, 1½m in Ireland. Dam of-

I'M PROPOSIN (Posen). 3 wins at 1m, Newmarket Joel S., L, Sandown Polygram Conditions S.

Blue Secret (Classic Secret). 14 wins-5 at 2-from 1200m to 2300m, £169,580, Milan Premio Filarete, 2d Livorno Premio FIA European Breeders' Fund, L.

First Footman. 2 wins at 1½m, 17f, Newmarket Ladbroke Amateur S. Sire.

Race Record:

Raced twice.