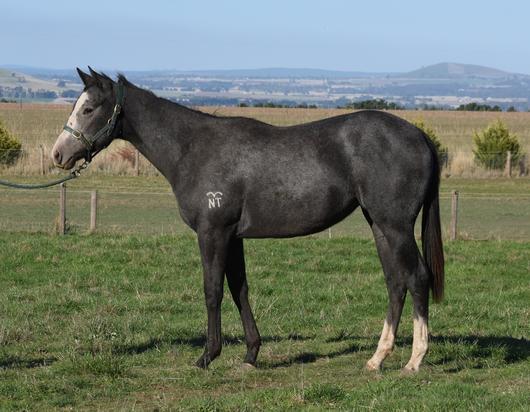 Sizzling X Danahere
2 year old Grey Filly
Sire: Sizzling Dam: Danahere
FOR LEASE
Photo taken in paddock condition in April
We have an exciting opportunity to offer limited number of lease shares in a very well put together grey filly. She is out of city winning mare who first three to race are all winners including the stakes winner SAINT PATRICKS DAY. This filly is bred on a similar Danehill/Dehere cross.

Sire: SIZZLING
A Pre-Christmas Juvenile & Group 1-Winning 2YO by SNITZEL
A Group 1 Winning 2YO by Champion-Sire Snitzel
Sire of Listed Winner & Group-Placed Secret Blaze
Sire of Group-Placed Sizzleme, Sizzling Belle, Blazing Miss, and Sizzling Ace
Sire of Magic Millions 2YO Adelaide Classic Winner, Zizzis
Super fast PRE-CHRISTMAS two-year-old who had the class, precocity, and constitution to win five races in his juvenile year including the Group 1 BRC TJ Smith.
Incredibly tough racehorse, going on to win the Group 2 Queensland Guineas at three

https://www.newgate.com.au/horses/sizzling-19673.html
Dam: DANAHERE city winning mare by Dehere. 5 wins from 1850m to 2400m, A$105,881, MRC Catanach's Jewellers H., Patinack Farm H., 2d MVRC Printhouse Graphics Tour of Victoria Series H., 3d MVRC Central Star Auto Haus H. Half-sister to exciting group 2 winning OCEANEX. 4 wins from 1600m to 2000m, A$411,270, to 2019-20, VRC Matriarch S., Gr.2, Flemington Event Staff H., MVRC Dean & McPherson Catering H., 2d MVRC Seppelt Wines H., Cranbourne TC Pinker Pinker P., Bendigo JC Bet365 H., 3d MVRC WH Stocks S., Gr.2, MRC Clanbrooke Racing H.,and group 3 winning AMEXED 3 wins from 1600m to 2400m, A$245,135, BRC Rough Habit P., Gr.3, SCTC Caloundra Cup, L, 2d BRC Andrew Bensley No 1 in News H., Sequalo at Lyndhurst H., 3d BRC Bundaberg Distilling Company H., 4th BRC Grand Prix S., Gr.3. and winning stakes placed Digital Fortress and Marcellina. . Dam of three foals to race, all winners- including good stakes winner SAINT PATRICKS DAY (g. by Excelebration). 3 wins-2 at 2-to 1400m, A$176,150, BRC Dalrello S., L, 2d BRC Catalina Sounds H., 4th BRC Sires' Produce S., Gr.2.